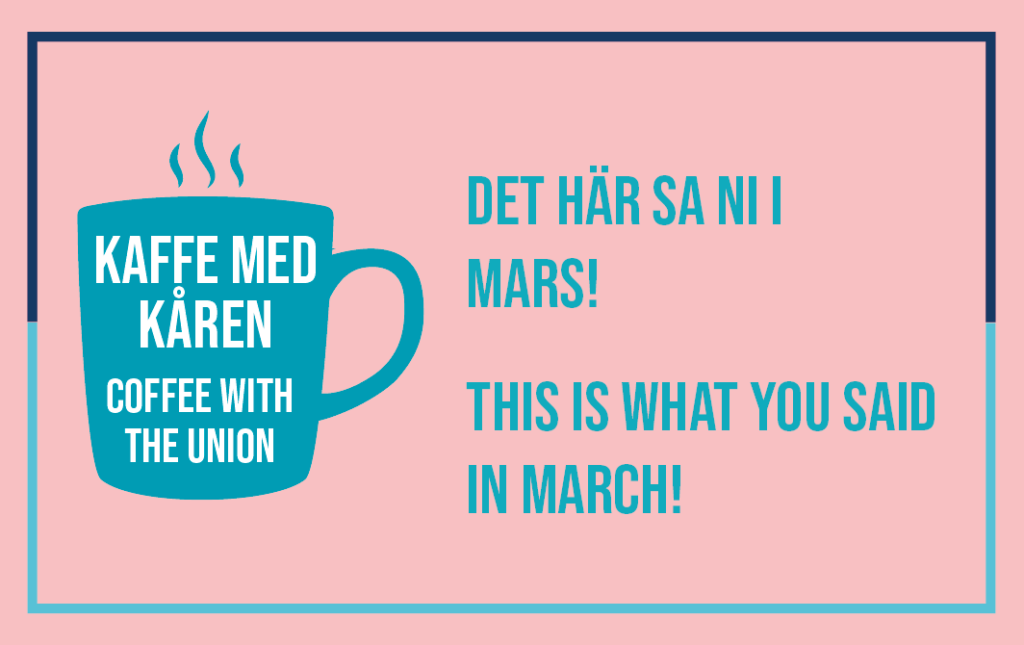 We went out to the faculties to meet as many students as we could, hand out some tasty croissants and endless cups of coffee and above all to hear what you think is important when studying at Malmö University. The theme this time was the Union's Work and study political.
Usually we have some questions with us at the faculties that we are curious to get answers to. Without you students, the Union is nothing and therefore it is extra important to get input from you as much as we can! We would like to thank you for all the answers and all the participation. Next time we will meet on April 5-1 at 10.00-14.00 at your faculties.
April 5th at Niagara, 6th at Orkanen & 7th at HS.
Coffee with the Union's yes / no question this time was: Have you noticed the work of the student council/union during the autumn semester 2021?
This is how you answered:
Yes: 95 No: 119
These are numbers we want to flip and given what we got for answers below we have to increase our work's visibility.
The open question was: What questions are important for your studies?
We want to thank everyone who took the time and responded. Below we have summarized the answers we received. As you can see from our broad student population, answers and needs are also broad. We at the Union work every day to ensure that all students at MaU have a safe and fun study time.
Hälsa
Mer event på puben +1
Social samvaro
Utökade möjligheter för….. (se bild jag fattar ej)
Festevenemang
Kvalitet på utbildningarna
Träffas live på skolan
Respekt
Kåren borde jobba mer med att få ut information för nya studenter på VT. Och inte bara i början av terminen när allt är nytt.
Social Networks
Free sports for students
Fler event med kåren
Gemenskap +4
More focus on students mental health and reducing stress
 Fler sittplatser
Mer fest (+3), och mindre plast
Skapa mer gemenskap genom event/aktiviteter
Jämlikhet mellan lärare och elever (studenter). 
Mer organiserade aktiviteter inom programmet (GPS) för att träffa andra och få sammanhållning!
Gratis kaffe
Mer organiserade studentkvällar
Jämnlikhet +2
Mer fika
I think it is of most importance to give hints on job opportunities related to the field of study
Mer lättillgänglig studenthälsa/ tydligare visa var de finns
Inkludering för alla studenter
Psykisk hälsa
Plats för alla
Standing tables in the library
More vegan options for lunch
Fokus på studentinflytande
Positivt kanske redan finns, uppmuntra till mer nätverkande och sammankomster mellan studenter
Mera gemenskap och hålla ihop anda
Lätt att få hjälp
Fler arbetsgrupper för representation 
Att Kåren är mer tillgänglig – kanske en tidning! (Det finns, kolla gärna in sum.malmostudenter.se)
SYV- tider
Sport, poetry
Barnverksamhet (barnpassning – till studenter som har småbarn) – praktisk verksamhet för BUS
Hur gör ni för att alla ska känna studiemotivation
More organized sports for students provided by the university
Fokus på studenthälsan
Studiero och studenthälsa
Studenternas röst i relation till jämlikhet mellan studenter och lärare
Studiemotivation
More events/activities
Help introducing international students
Jämlikhet mellan elever(studenter) och stöd från lärare