If you have any problems regarding your studies you can talk to your student ombud, they are here and happy to help you with both study related questions as well as things outside of your studies.
Here you can find more information on how the student union can support you, what is most important when you are a new student, what you need to know when you are studying and what rights and obligations you have.
Read the document The Rights and Responsibilities of Students at Malmö University
The Student Union Malmö can help you with everything that concerns your studies.
No question or problem is too small or too big. We are here for you! Below you can see examples on how we can help you. Contact your Student ombud if you need support.
It can sometimes be difficult to study. Here we have gathered some things that is important to keep in mind.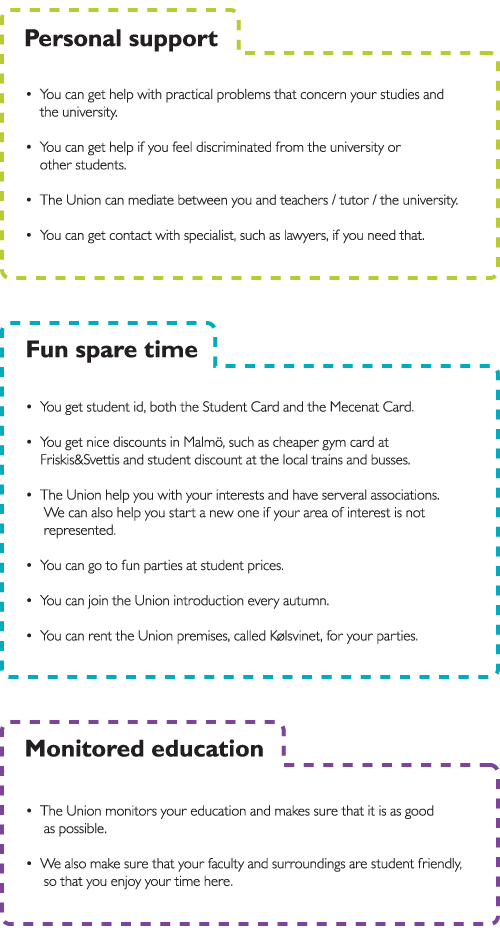 Student ombud
Do you want to be active in the Union or engage in your studies? Or do you have problems with your studies? Then contact your student ombud at your faculty. We are here for you! Read more about the ombuds and find contact info here.
FORUM
You can be a student presentative in your faculty's committees and bodies and for example have the possibility to decide on the content of program and courses, the study environment at your faculty and a lot of other things. You can be elected as student representative by attending your faculty's FORUM. Read more about under Committees, groups and bodies
Student health
It not always you are at your best. As a student at the university you have the possibility to go to Student health with questions and problems regarding your studies and health! Here you find counselors and nurse/midwife. They also have courses and seminars. You can talk about everything from diets, drinking habits, stress, anxiety, depression, relations and study related thought. At the midwife you can do pregnancy test, get day after pill and contraceptive advice. All personal at the Student health work under secrecy and all contact with the student health is free of charge. Read more here.
Course presentative
All courses shall have student representatives. Talk to your course or program responsible how it is on you faculty or your student ombud.
Course evaluation
In the end of every course you shall fill in a course evaluation. The feedback of the result is to be given to the students that have the same course after you. Course with 15 hp or more should also have a half time evaluation. Check the guide lines for course evaluation on your faculty.
Students rights and obligations
Read about your right and obligation as a student. You find the document under Right and obligations
Student influence policy
This policy is the university's standing point when it comes to student influence and it is a support for you as a student when the university don't listen. You find the document under Rights and responsibility
Union election
Do you think that your education needs improvement, do you want to help your fellow students or do you have an idea on how to make the Union better? Then you should sit in the Union council! Every year you as a student can candidate to the council and if you are elected you can apply for a position in the union board and maybe start working as an student ombud.
Even if you don't want to candidate you shall most definitely VOTE on the student you think should represent you. Keep your eyes open for information about the upcoming election here on the web site, fakebook, Instagram, Twitter and in the Toilet paper.
Career service
Not sure what you want to do after your studies, what job you can apply for or if you are on the right path with you studies? At the career service you can get help with writing a CV, strategies for your coming career and much more. Read more here!
Entrepreneur
Want to start your own company or maybe you already almost there? Develop your ideas and become an entrepreneur! Through the university you can get your own mentor or go to interesting seminars at Drivhuset. At Drivhuset you can also get your very on office spot, Read more atdrivhuset.se/malmo.