The Reception
You can find our reception at:
Bassängkajen 8  Map
211 18 Malmö
Opening hours | Tuesday-Thursday  10-16, Fridays 10-13 Temporary opening hours from week 13.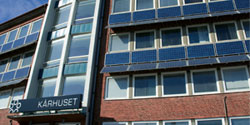 Email | receptionen@malmostudenter.se
Telephone | 040 665 75 65
---
The Union Offices
At some of the faculties we at the Student Union have our own space. This is where you can find your student ombuds at certain times and book meetings with them here. If no one is in, please contact them via email or phone. More info about our student ombuds here.
Orkanen | Nordenskiöldsgatan 10, room C42
HS: Health and society | Jan Waldenströms gata 25, room U112
Niagara | Nordenskiöldsgatan 1, Bottom floor, room NI:B0E02
Offices/Kansliet
Lena Petersson
Organization Administrator & Collaboration Manager
Data Protection Officer
Adress | Kårhuset vån 3, Bassängkajen 8
E-post | lena.petersson@malmostudenter.se
Telefon | +46707 577 561
David Hamark
Communicator
Adress | Kårhuset vån 3, Bassängkajen 8
E-post | david.hamark@malmostudenter.se
Telefon | +46707 577 173