The student union consists of students like you, who either work voluntarily or take a year off from their studies, to help their fellow students and work full time. But a large part of the Union's work is handled by voluntary forces.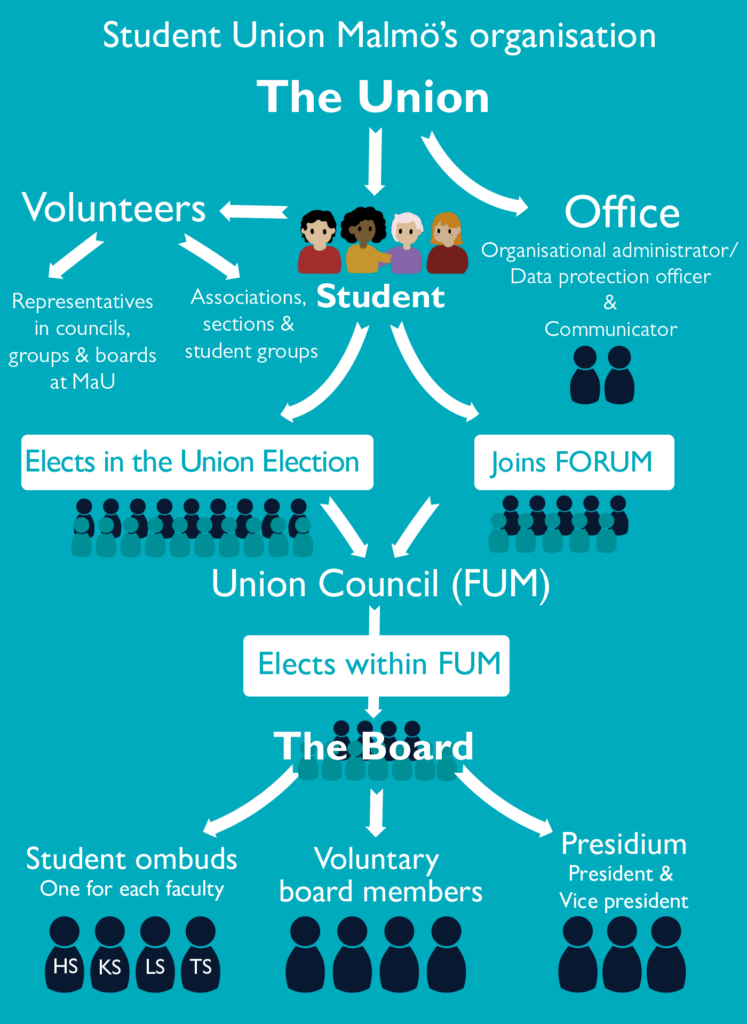 The Malmö Student Union is governed by a UNION COUNCIL (FUM) that you choose in the Student Union Election. The COUNCIL – or FUM – is the Union's highest decision-making body and is responsible for all decisions and activities within the Union. FUM is appointed in the election where YOU, as a member, can candidate and all students at Malmö University can vote. FUM consists of 19 elected students and another 10 who are elected by faculty-wide Student Influence FORUM, which makes FUM a total of 29 members. FUM meets about 5-6 times in one year and makes all overall decisions for the year.
At the first general meeting, the so-called statutory council, FUM chooses who will sit on the BOARD. You cannot, therefore, vote on who will be on the board in the election, but you will vote on who will sit in the council. The board, which consists of 11 people (7 full time and 4 voluntary members), meets twice a month, and ensures that the council's decision becomes a reality.
The council also chooses who will work full time at the Student Union as a STUDENT OMBUD (in total 4 people) and in the PRESIDIUM (3). These people who work full time and are paid, become the STUDENT UNION BOARD together with 4 voluntary board members. The presidium, which consists of the PRESIDENT and VICE PRESIDENT, leads the board's meetings, prepares matters for decisions and represents the members of the Union against the media and the outside world. The student ombuds will help you if you are in trouble, sits in the university's groups, committees and bodies and make sure your faculty is student-friendly.
In addition, many students spend some of their time sitting on committees, groups and bodies at Malmö University. These VOLUNTARY STUDENT REPRESENTATIVES (not to be confused with voluntary board members) represent you at your faculty and influence who is employed, what educations and courses are started, how an area should function and much more. Many students also choose to get involved in one of the Student Union's associations and make sure you have a wonderful free time. Read more about what it means to be active in the Student Union under 'Get involved' here on our website.
In addition to the paid students who work full-time, the Union also consists of an administration OFFICE with two full-time employees and serve as Union officials. Thus, these persons are not elected but are employed by the board. The office ensures that the daily work at the Union runs smoothly and handles practical tasks such as communication, finance, organizational tasks and takes care of the premises.