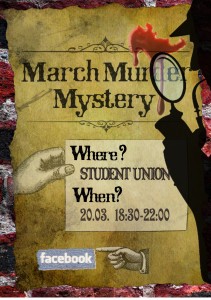 The International Office and Studentkåren join forces to provide you with some more fun events and one of those will be held soon! So mark the 20th of March red in your calendar! Because the Student Union we will be hosting a super fun night to celebrate spring equinox!
There has been a recent trend in the Scandinavian countries to celebrate Easter all cuddled up with a book or comfortably sitting in front of the TV to enjoy some good crime fiction. Inspired by that, we want to supply you with a special crime evening. Witness a story full of bloody murder, sneaky suspects and unsuspected twists! Enjoy the thrill of cracking a hard case. Release your inner Holmes!
To get your grey cells working faster, we also want to provide you with a yummy Swedish Easter snack. And let me tell you, it has something to do with the case. But I won't say no more. But here's an idea, why not make it into a crime dinner while we're at it? For that, we need your help, though. If everyone (or you and your friends) chip in to bring a spring/Easter dish from your home country (or any other country if you prefer), we could make it happen! It's your choice. Let us know if you want to contribute!
The entrance fee is only 10 SEK!
Make sure you bring your friends along to help you solve the puzzle! Everyone is invited no matter if you're an exchange, international or Swedish student. The more the merrier, as we say. See you there!
Date: March 20th
Time: 18:30 – 22:00
Place: The Student Union House, Bassängkajen 8
Fee: 10 sek (!)
The Facebook event page: facebook.com/events/514904125215008