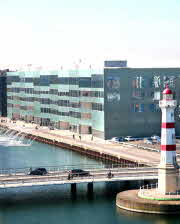 You are invited to join the first ever International Week at Malmö University's Faculty of Education and Society. Together we will highlight how knowledge is unbounded and interwoven with international influences.
Dates: May 6-8 2013
Objectives: The aim of the International Week is to increase knowledge and awareness of internationalisation, strengthen international collaborations and networks, and enhance the international perspective on education. Three inspiring days with an international approach on Teaching and Learning
You will meet colleagues within your fields of interest from around the world, and you will have the opportunity to meet national and international students. Of course, there will be an interesting and enjoyable social programme for you to take part of during the week including dinners, study visits and tours of beautiful Malmö with surroundings.