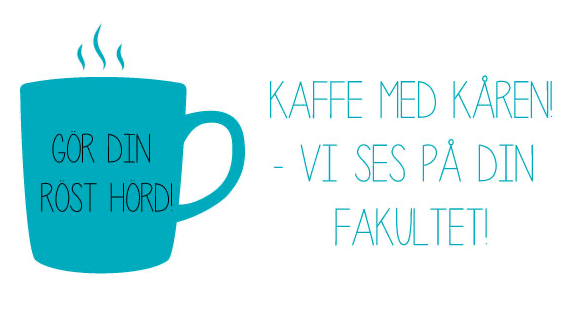 We went out to the faculties to meet as many students as we could, hold a competition, hand out yummy croissants and endless cups of coffee and above all to hear what you think is important when studying at Malmö University. The theme this time was Career Opportunities.
Usually we have some questions with us at the faculties that we are curious to get answers to. Without you students, the Union is nothing and therefore it is extra important to get input from you as much as we can! We would like to thank you for all the answers and all the participation. Next time we see you 14th of December at all the faculties simultaneously. We will hand out some Mulled Wine and winter treats.
The yes/no question this time was: Do you think your studies prepare you for a future career?
This is what you said:
Orkanen: Yes: 60 No: 2
Niagara: Yes: 53 No: 7
HS: Yes: 14 No: 2
The open question was: How can the Union help highlight career opportunities better?
We want to thank everyone who took the time and responded. Below we have summarized the answers we received and as you can see, there are mainly 5 main points that came from the answers.
There must be more opportunities for social network meetings and workshops where, for example, you learn more about contracts and CVs, better structure around the studies so that everything gets its time, career fairs are also in demand. Keep your eyes open for the Union's Days event in the future! The teachers' own structure has also been criticized as lectures often drag on and make it more difficult to keep up with the studies. Not all answers are printed but a selection has been made.