Housing is a topic that the Union are working hard on to improve. Here we gather all information and show our work and our involvement about housing. Among other projects The Student Union of Malmö, will share housing stories of humans of Malmö University. For sharing with the university and Malmö Stad to improve the housing situation.
Don't forget to sign a home insurance! If your things get stolen or break it can help you a lot financially when you need to replace them. Compare different insurances here!
Student Union Malmo´s position paper about housing, 13 december 2017.
Find housing
Find a place to stay, the Union can help students with housing in different ways, take a look at our housing-tips on this page. For a temporary solution in the beginning of the semester when it often can be though to find a place to stay the Union have the Sofa Project. We have also taken over Malmö University's housing site Hemma where apartments and rooms are uploaded by people every week.
Student Union Malmö's own channels
Due to the Corona pandemic we cannot offer the Sofa Project. It is unfortunately not in line with the Public Health Agency's recommendations.
Sofa Project
When the semester starts many new students arrive to Malmö. Many of them will not have a home when the semester starts, this because of housing shortages and long queues for student housing. To help these students and alleviate the housing shortage, the Student Union Malmö organize "the sofa project". We need your help to help our new friends.
Read and apply for Sofa Project here.


Hemma – The Union's own housing portal
Through Hemma (hemma.malmostudenter.se) you can find apartments and rooms uploaded by people living in and around Malmö. We at the Union always check up on the uploaded ads but you should always be careful when renting in second hand and never pay upfront! Read our guidelines at the website below.
Browse apartments and rooms at Hemma here.
Other ways of finding housing
Housing Policy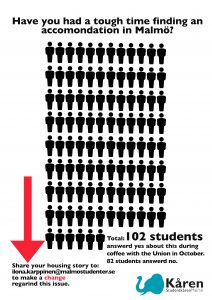 Feedback from Coffee with the Union: What are your opinions about housing in Malmö? October 2017
Feedback from Coffee with the Union: Have you had a tough time finding an accommodation in Malmö? October 2017
Coffee with the Union. Topic: Housing for students. October 2017
Tips från Kåren – vart ska du bo som student?
Housing stories from students at Malmö University
Share your own story with us in this document! Or email to: inforum@malmostudenter.se
"Att halva ens CSN ska gå till hyran är inte okej" October 2017
"I am on the verge of a breakdown" September 2017
Press
Pontus Källström, kårordförande, "Efterlyses: Bostäder och bra pedagoger". Sydsvenskan 261017
Our contact details.