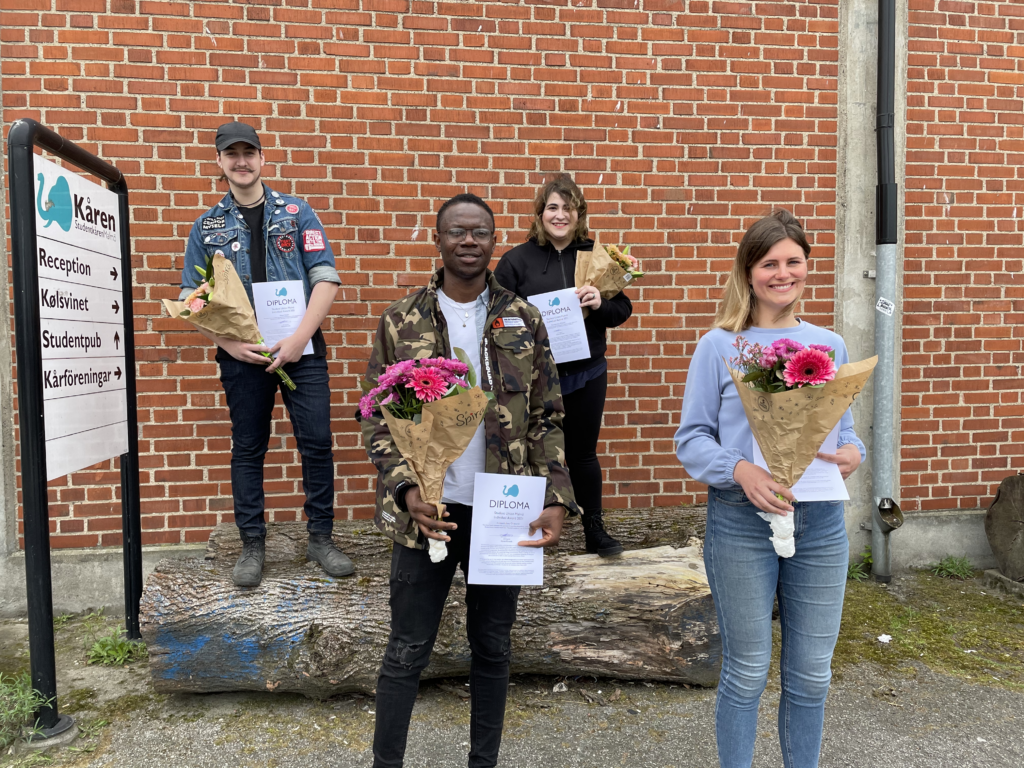 About the award
The Union award is the Student Union Malmö's way to motivate, inspire and reward the students of Malmö University for increased engagement outside their studies.

The award consists of a scholarship and a diploma and is meant to reward students who through their engagement outside of their studies have in some way contributed to a betterment for our university and it's students. The prize itself is meant to be used as the winners see fit.

This token of appreciation is handed out yearly to members of the Student Union, during a ceremony at the end of the spring semester. There are two individual scholarships worth 2500 kr each and one group scholarship (two or more). The group award also aims to reward individuals for their group work, hence an already established association CANNOT be nominated as a group. The prize is divided however the group see fit.
PLEASE NOTE: Due to incomplete nominations, no group could be appointed. Therefore the award is parted in 4 ways for individual awards.
Qualifying criteria:
The student's engagement has laid­ way for short- or long term improvements for the students of Malmö University.
The student has been involved study-politically either at Malmö University or on national level.
The student has been involved within study social activities either inside or outside the University and the Student Union.
The student has been involved outside the university and the academic world. Merit for the award is commitment that has affected students in Malmö and 'Malmö Student City' in a positive way.
Motivations for the winners of the individual Union Award 2020:
Noah Godin
Noah shows a broad commitment within both the world of the university and in the outside community. During the past year, he has been a strong driving force for one of the Union's committees; Committee for Intersectionality. Here he has continuously worked to ensure that the university and the Union are an open and safe place and welcoming for everyone, regardless of their background.
Noah has been active as a student representative on his program as well as a member of the Union's Council and the association FAMUS by actively participating for a positive change for all students in Malmö.
Outside of the study world, Noah works diligently with the majority of independent groups fighting for social justice and solidarity. Some examples are the organization of demonstrations on International Women's Day, charity events and refugee support.
Due to his multifaceted commitment, we in the committee agree that Noah is a well-deserved recipient of the individual Union Award 2021. He has also met all the meritorious criteria for the prize.
Konstantina Klonari
Konstantina is a person who works very hard to ensure that students around her are well, even in a pandemic. She has been part of the organization ESN, both locally and nationally where students' well-being is at the center. By helping at the Student Pub and Inspark as well as the Buddy Program, Konstantina has played a central role in guiding new students to a safer everyday life.
If something is wrong, you can trust Konstantina to speak out and work for improvement, this can be seen in her involvement in the Union's Council and many associations.
She has also been involved in issues of internationalization and mobility regarding students, by participating in the work to launch a mobility campaign that will attract more international students to Sweden.
Based on the above and several nominations, we believe that Konstantina is a worthy winner of the Individual Union Award 2021.
Julia Breidenstein
Earlier this year, Julia took the initiative to re-launch the Triple S association with a strong profile for sustainability. As a driven student, she shows the way and creates conditions for students to gain experience in sustainability issues, to interweave their academic knowledge with practical experience to create large networks for student development.
She strongly believes in giving students a safe place to share their ideas that are valuable to result in a job after graduation in the long run.
In the same way, it is important for her to create safe places outside the university walls where Julia has connected a sports club in Malmö and students who want a more active everyday life.
Julia has a strong drive when it comes to helping student life move forward that provides long-term effects, which the jury finds remarkable. She is an exemplary recipient of the Individual Union Award 2021.
Arinzechukwu Onwurah
Sometimes it is as good to inspire others to find their drive as to be driven yourself, Arinzechukwu succeeds in both of these aspects.
On his own initiative, he has been a spider in the web for a big number of students so they have been able to find their place in our beautiful city, something that the entire 6 nominations tell strongly about. An example is how Arinzechukwu through a group chat has been available to all possible students who needed help finding accommodation, friends or finding out how to get started with their student life. No matter how much time Arinzechukwu himself has, he has given just as much time to listen to others and help them in times of need.
He has paved the way for how students with different backgrounds can be better represented in the university world by leading them in the right way to do so.
Arinzechukwu has been incredibly helpful and supportive to his fellow students over the past year without expecting anything in return. Worthwhile award holder who deserves the Individual Union Award 2021.