The election is up and running!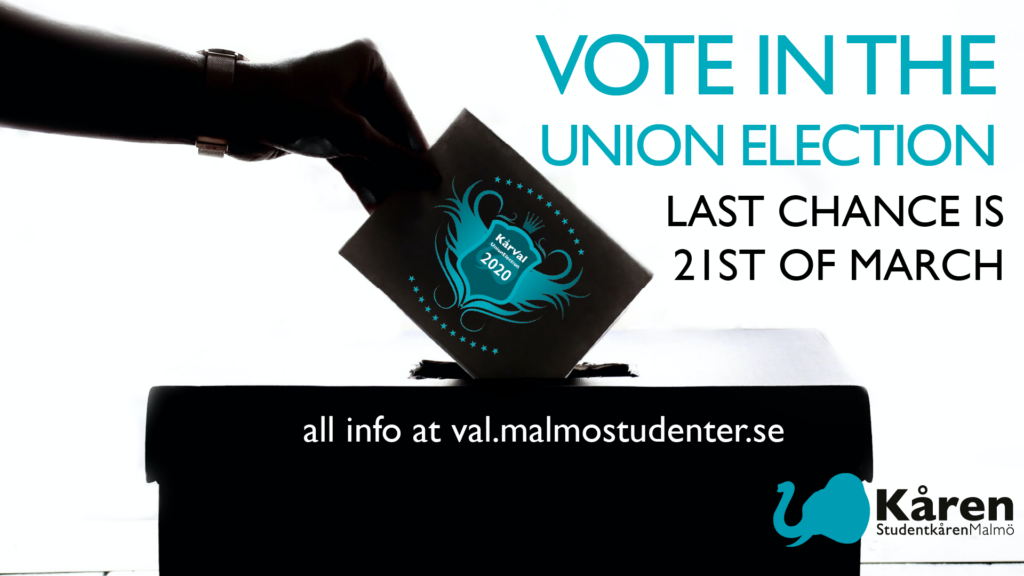 Between 8th and 21st of March you can vote on candidates who you want to see in the Union council!
If you are a student at Malmö University, an email has been sent with an individual voting link required to vote. The link is personal and you can change your vote until the voting closes. You can vote for max 5 candidates.
NOTE: The link may not be shared to anyone else, what happens then is that your personal vote gets changed.
Didn't you get an e-mail? Send your name and personal number to val@malmostudenter.se and we'll help you.
You can read more about all the candidates at: val.malmostudenter.se
How to vote:
Find your voting mail (sends out 8/3) that you received to the email address you have reported to Malmö University. The E-mail is called "Rösta i Kårvalet 2021 / Vote in the union election 2021".
Click on the link in the email that takes you to the vote.
Choose whether you want to vote blank or 1-5 people.
Select the people you want to see in the council (MAX 5st).
Click "slutför" (finish). Done!
PS. Everyone who votes in election is in the raffle of an Ipad as well as our goodie bags!
See all candidates below