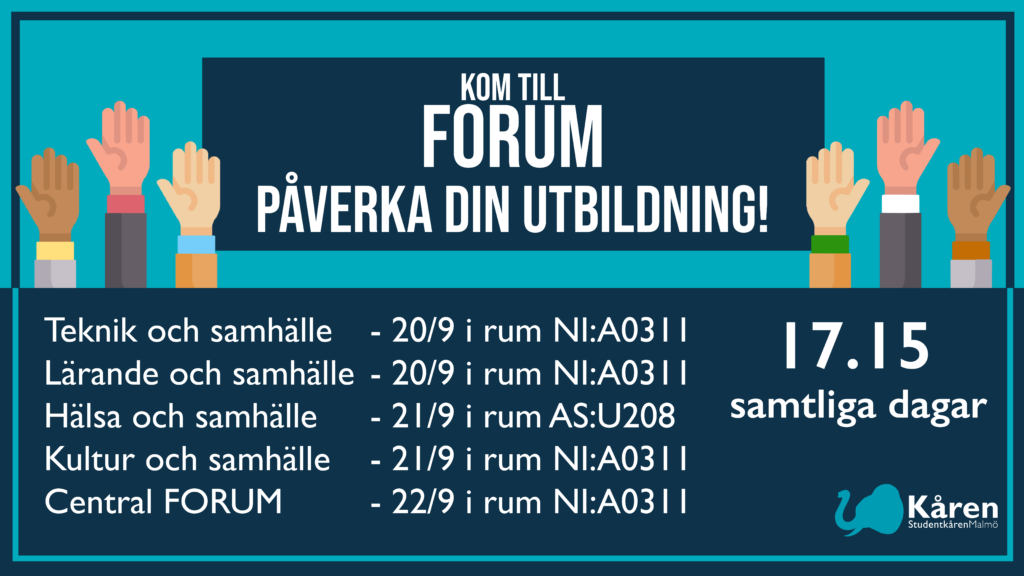 FORUM 2022
🖐The FORUM elects student representatives to the various decision-making and preparatory groups at faculty and central level of the University. The requirement for those who sit on the various central groups is that you, as a representative, are fluent in Swedish.🇸🇪
Your influence is really needed, for a better university!
Do you want to exert student influence on the university? Vill du se till att din och kommande studenters studietid håller hög kvalité? Som studentrepresentant kommer du att få värdefulla erfarenheter för framtiden samtidigt som du representerar dina klasskamrater och övriga studenter för att ni ska få en så bra utbildning och studietid som möjligt! Experience like this also looks very good on your CV.
You also have the chance to take a seat in the Student Union Council (FUM). FUM är Kårens högst beslutande organ och består av 29 studenter, 10 av dessa väljs genom FORUM. Blir du invald i FUM kan du även jobba heltid på Kåren.
All student representatives will undergo training for the positions for which they are elected and they will always receive support from the Student Union.
Join the events below:
🟣 Central FORUM 22/9 (You can also come here if you can't make it to your faculty's FORUM) https://fb.me/e/4CH39hopi
🟢 Technology and Society – 20/9 https://fb.me/e/1PslJZzvb
🟡 Learning and Society – 20/9 https://fb.me/e/elXmNQgvN
🔵 Culture and Society – 21/9 https://fb.me/e/2Wlb1jPco
🔴 Health and Society – 21/9 https://fb.me/e/5XGz4tnM4
All FORUMs start at 17.15!