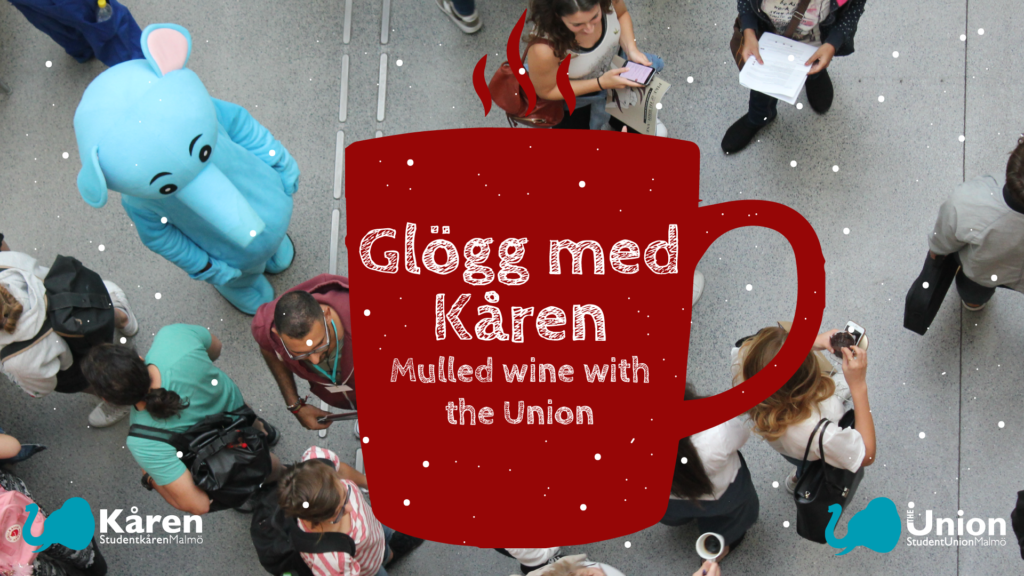 Vi anordnade en speciell version av Kaffe med Kåren, Glögg med Kåren nu i december i Kølsvinet. Vi bjöd på glögg, lussekatter och ställde som vanligt en fråga som vi ville ha svar på. Tack för all feedback som vi fick! Här nedan kan du läsa om vad ni sa och vårt presidiums svar på dessa.
We organized a special version of Kaffe med Kåren, Glögg med Kåren this December in Kølsvinet. We offered mulled wine, saffron buns and, as usual, asked a question we wanted answered. Thanks for all the feedback we received! Below you can read about what you said and our presidium's response to these.
Fråga/Question: Vad tycker du Kåren borde arbeta mer med? What do you think the Union should work more with?
Öppet Måndagar (Open mondays)
Have a big party when the Corona is over
Mer events kopplade till de olika programmen – temadagar. Tack för fikan! (More events connected to the different programmes – theme days. Thank you for the fika!)
Skapa mer gemenskap vid Malmö universitet (Create a better community at the University)
Gratis kakor, vinster och liknande som ni har ibland är jätteroliga (Free cookies, prizes and similar things that you have sometimes)
Mer synlighet i universitetets lokaler. Tack för kaffet! Toppen med att komma igång med flera evenemang + sopplunchen efter pandemin (Mor visibility in the Universities locales. Thank you for the coffee! It's great if you can get more events started like soup lunch after the pandemic)
Tillställningar här i Kårhuset när corona är över (events in the Union house when corona is over)
Studentlife, associations (more supporting functions)
Aktiviteter efter skolan & försöka hitta på fler traditioner (Activities after school and try to come out with more traditions)
Kick xx out! (not something we can do per se but contact your student ombud if you have a complaint regarding teachers)
Follow the recommendations from Folkhälsomyndigheten more
Tack för alla era svar! Vi alltid uppskattar er feedback och tar era synpunkter med oss till alla möten med universitetet!
Decembers Glögg med Kåren visade återigen hur vi alla längtar efter post-Corona evenemang. Tyvärr är det fortfarande inte dags att festa, men vi ser emot att välkomna er tillbaka till studentpuben och fysiska evenemang i Kölis när det är säkert att träffas igen!
Det glädjer oss jättemycket att många av er ser lika mycket fram emot alla våra evenemang efter pandemin som vi gör! Hoppas verkligen vi får ses snart!
Vi tar smittsäkerhet mycket på allvar. Alla fysiska evenemang har ställts in tills vidare, endast receptionen och Kölis/ studierummen stannar öppna i möjligaste mån för att erbjuda studenterna på plats stöd och en trygg plats att plugga. För höstterminen har vi stängt, men vi hoppas att kunna öppna vecka 3 igen!
Då och då hör sig studenter av till oss för att yttra sitt missnöje kring särskilda lärare. Detta kritik ta vi givetvis på allvar, även om det inte är möjligt att bara "sparka" en lärare. Lärarnas pedagogiska skicklighet är lika viktigt som deras vetenskapliga kunskap, tyvärr upplever många studenter att detta stämmer inte alltid överens med deras erfarenheter. Vill du vara med och bestämma vilka nya lärare anställs för din fakultet? Då går det utmärkt att kandidera till studentrepresentant i Lärarförslagsnämnden under nästa FORUM!
Vi ser att det finns intresse om olika evenemang som kopplas till de olika programmen som finns på universitetet. Detta året fick vi finansiering för ett spännande projekt om 'sektioner'. Sektionerna ska motsvara programföreningar och organisera olika evenemang som ska riktas till specifika grupper av studenter. Är du intresserad av att starta upp en sektion? Gärna kontakta Diego Annys (diego.annys@malmostudenter.se) som är ansvarig för projektet, så att du kan få stödet som behövs för att starta upp en sektion!
---
Thanks for all your answers! We always appreciate your feedback and take your views with us to all meetings with the university!
December's Mulled wine with the Union once again showed how we all long for post-Corona events. Unfortunately, it is still not time to party, but we look forward to welcoming you back to the student pub and physical events in Kölis when it is safe to meet again!
We are very pleased that many of you are just as much looking forward to all our events after the pandemic as we are! Really hope to see you soon!
We take infection control very seriously. All physical events have been canceled for the time being, only the reception and Kölis / study rooms remain open as much as possible to offer the students on-site support and a safe place to study. We have closed for the autumn term, but we hope to be able to open week 3 again!
From time to time, students contact us to express their dissatisfaction with special teachers. Of course, we take this criticism seriously, even if it is not possible to just "kick out" a teacher. The teachers' pedagogical skills are as important as their scientific knowledge, unfortunately many students feel that this does not always agree with their experiences. Do you want to be involved in deciding which new teachers are hired for your faculty? Then it is excellent to run for student representative in the Employment Board during the next FORUM!

We see that there is interest in different events that are linked to the different programs available at the university. This year we received funding for an exciting project on 'sections'. The sections will correspond to program associations and organize various events that will be aimed at specific groups of students. Are you interested in starting up a section? Feel free to contact Diego Annys (diego.annys@malmostudenter.se) who is responsible for the project, so that you can get the support needed to start up a section!